27 July 2021
Phabin Kalita
Six Assam cops were killed and around 80 people, including officials, were injured in firing by Mizoram police and alleged Mizo intruders along the inter-state border in Cachar's Lailapur on Monday as a boundary dispute festering for 25-odd years escalated into full-blown violence involving security forces and civilians on either side.
While Assam said the contingent of officials and police deployed to "defend" the "constitutional boundary" were attacked within its territory, Mizoram home minister Lalchamliana said Mizoram police had to resort to firing to "counter an assault" by their counterparts.
"I am deeply pained to inform that six brave jawans of Assam Police have sacrificed their lives while defending the constitutional boundary of our state at the Assam-Mizoram border. My heartfelt condolences to the bereaved families," Assam CM Himanta Biswa Sarma tweeted.
Union home minister Amit Shah intervened immediately to get Assam to withdraw its police deployment from the area so that the "neutral" CRPF could take back control of the inter-state border. "The home minister has spoken to the chief ministers of both states and asked them to maintain status quo," a senior bureaucrat said.
Sarma took to Twitter again late Monday to say "clear evidences are now beginning to emerge that unfortunately show Mizoram Police used Light Machine Guns (LMG) against personnel of @assampolice". He said the attack "speaks volumes about the intention and gravity of the situation".
Sources in the central forces corroborated the CM's statement that the Mizoram police used LMGs.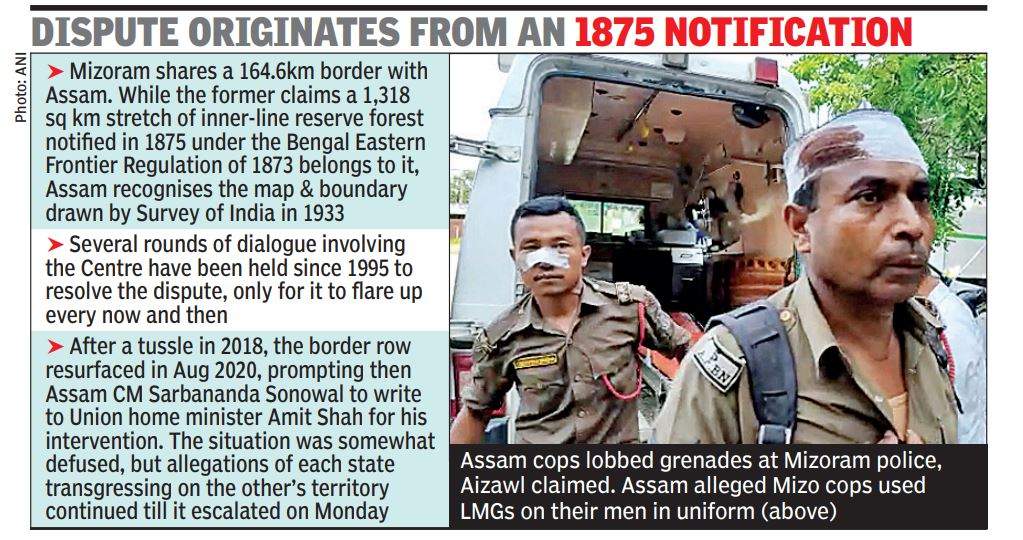 Minister Parimal Suklabaidya, who is from Cachar, contested Mizoram's allegation that the first bullets were fired by Assam police. "The firing from the Mizoram side was similar to that by the British at Jallianwala Bagh," he said.
In his official statement, the Mizoram home minister said, "Around 200 Assam armed police led by IGP, Assam Police, accompanied by DC (Cachar), SP (Cachar) and DFO (Cachar), came to the Vairengte (Mizoram) autorickshaw stand around 11.30am and overran a duty post manned by one section of Mizoram police personnel."
Lalchamliana also accused baton-wielding cops from Assam of assaulting residents of Vairengte town and bursting tear gasshells. "The confrontation continued and a volley of tear gas canisters and grenades were launched at Mizoram police, followed by firing from the Assam side at 4.50pm. Mizoram police responded spontaneously by firing back," he said.
The Mizoram government said it "deeply regrets the needless injuries on both sides, which could have been avoided".
"The government of Mizoram desires that the inter-state border issue with Assam be resolved in an atmosphere of peace and understanding," the statement said.
The build-up to Monday's firing had started at several points along the inter-state border in Cachar and Hailakandi districts of Assam following an official drive to reclaim land allegedly encroached on by "miscreants from Mizoram".
The embers of the boundary conflict that required central intervention on two occasions last year were reignited on Juky 10, when an IED was hurled at an Assam government team visiting the border. Two back-to-back explosions were reported across the border the next morning.
Mizoram and Assam share a 164.6-km-long border. Several rounds of dialogue involving the Centre have been held since 1995 to resolve the dispute, albeit with little success.
Source: The Times of India